1. Open Emoji Keyboard
Shortcut Key: Windows + . (the period key)
If you want to insert an emoji, just press Windows and period keys at once and the emoji keyboard will instantly open up. The best part is that it seamlessly integrates with the text field. Enjoy! 😃
2. Access Clipboard History
Shortcut Key: Windows + V
Finally, Microsoft brought Clipboard History in the latest version of Windows 10. Now you can go through all your copied texts with this simple shortcut.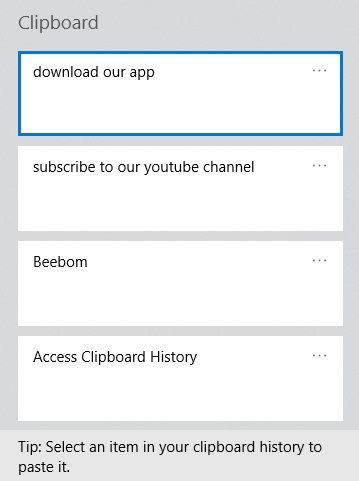 3. Quickly Connect Accessories
Shortcut Key: Windows + K
Windows 10 has brought this amazing shortcut which lets you discover and connect wireless display and audio devices swiftly. Use this shortcut if you use multiple accessories.
4. Open Advanced Windows Tools
Shortcut Key: Windows + X
If you are someone who wants to quickly uninstall programs, open PowerShell with Admin rights or update drivers from Device Manager, this shortcut will save you a lot of clicks. If you are a pro user, this one is for you.
5. Take a Selectable Screenshot
Shortcut Key: Windows + Shift + S
If you want to take a screenshot of part of your screen then this shortcut can help you do it. The Windows + Print Screen shortcut is great but you can't select your content window and you have to further edit it. So just use this shortcut and save yourself from further hassle.
6. Create a New Folder
Shortcut Key: Ctrl + Shift + N
This is a really handy shortcut if you deal with local folders regularly. I love this shortcut because it makes my workflow easier and faster. The window menu is too late to show up so this one saves my day.
7. Lock Your PC or Switch to a Different Account
Shortcut Key: Windows + L
This shortcut is pretty helpful to quickly lock down your PC from unauthorized access. You can also switch to a different account from the sign-in screen.
8. Project Your Screen or Change the Display Mode
Shortcut Key: Windows + P
If you use multiple monitors, this shortcut can make the transition a lot faster and easier. With this shortcut, you can extend your display or mirror it on another monitor.
More still loading…